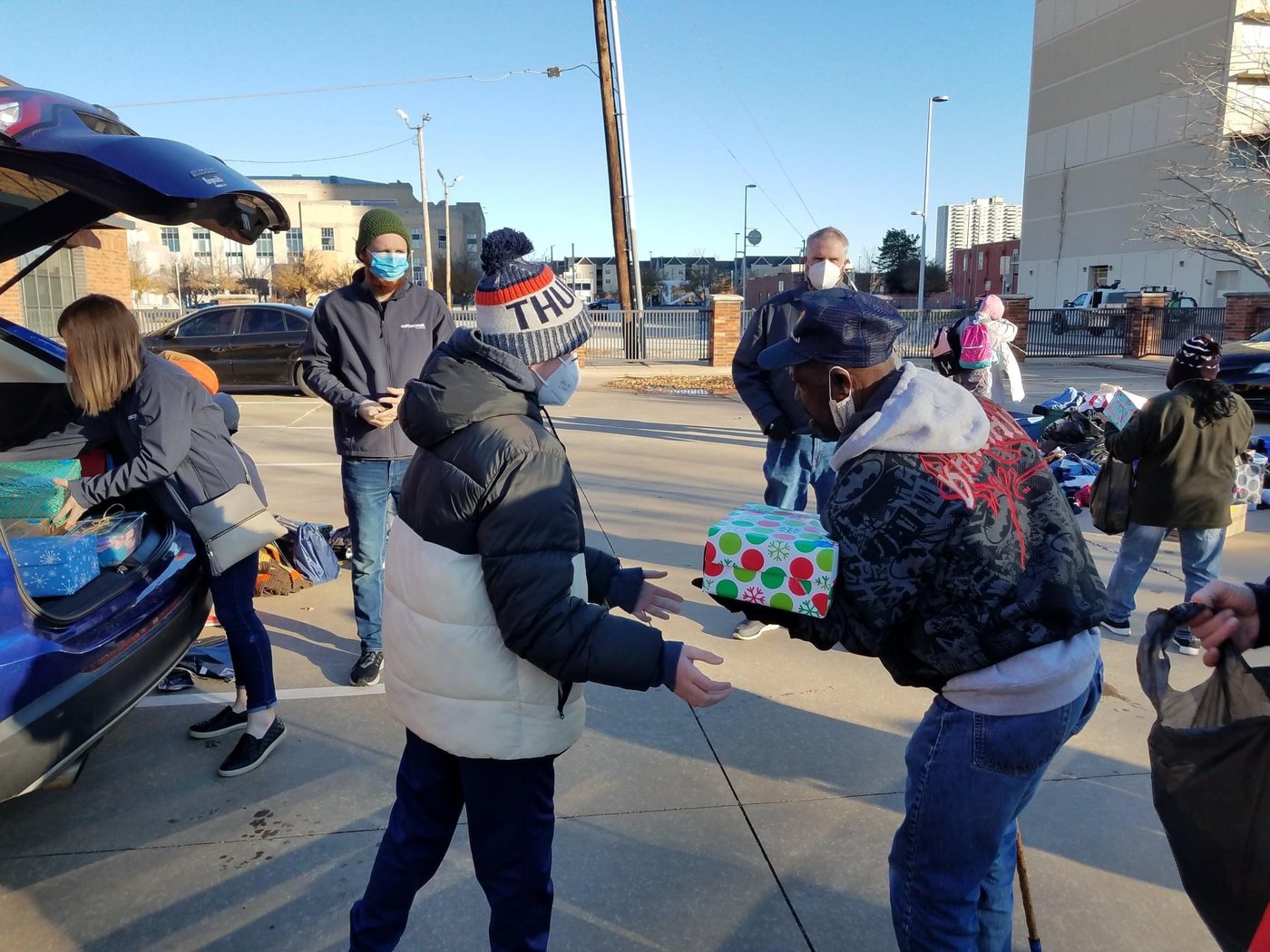 Treating our homeless friends this Christmas
We're packing shoeboxes that will stay in OKC!
In December we'll deliver all of our shoeboxes to our homeless friends in downtown OKC - many that live exposed to the elements or only temporarily sheltered.
YOU can make a big difference this Christmas for our friends. We will collect shoeboxes ANY Sunday in November and have porch-drop off available anytime beginning November 7th.
Step 1
Begin by wrapping the top and bottom of the shoebox separately.
We will have some limited shoeboxes available.
Don't have enough empty shoeboxes lying around? Dollar Tree has gift boxes that will work!
Please use standard-sized shoeboxes, not oversized boot boxes or child-sized boxes. Gifts need to be similar in size for fairness to those we serve.
You will want to make durable boxes with good wrapping paper and no bows as they will be stacked for transport.
Step 2
Each shoebox should be valued at approximately $50 – see the suggested items below!
Each shoebox should be for either an adult man or woman.
Consider lining the shoeboxes with tissue paper first for a more polished, elegant look
Don't overstuff your box; make sure the lid fits on properly without tape and doesn't pop off
Avoid including items that are overly delicate to avoid anything getting broken in transit
Suggested Items to Include:
Something warm: scarf, hat, socks, hand warmers
Helpful items for summertime: sunscreen, reusable water bottle
Something sweet: nut-free chocolate and candy (not alcohol-filled)
Body or hand lotion, soaps, toothbrush, toothpaste, floss
Brush, comb, shampoo, conditioner
Nail polish, mascara, eye shadow, lipstick
Flip flops
Purse-sized Kleenex, small cosmetic bag
Gift cards (McDonald's, pharmacy, coffee shop, etc.)
Bus tickets
​Journals, coloring books, pens, colored pencils
Please DO NOT include:
​Used goods and hotel sample size body products are not the right shoebox gift items to make someone feel special.
Sized clothing (i.e. S, M, L, XL) should not be included.
Mouthwash containing alcohol
Bubble bath or bath bombs are not useful for shelter clients; however, body wash for the shower is a great gift
Candles
Makeup products
Hand-sanitizers containing alcohol
Razors
Books
Feminine hygiene products
Anything opened or not packaged
NO money: cash, coins, or checks.
Step 3
Use a card or stationery to leave a personal note of encouragement, a written prayer, or Scripture. These personal notes can be very encouraging to a person that may be without hope this Christmas. Please do not include personally identifiable information, contacts, or last names.
Step 4
You can drop off your completed shoebox any Sunday in November! We will deliver the boxes during our December Feed the Homeless event.
Make sure to indicate if your box is for a man or woman.
Other ways to help
Don't have the time to put together a shoebox this year? Have no fear! Make a donation below and you can still support this great project!